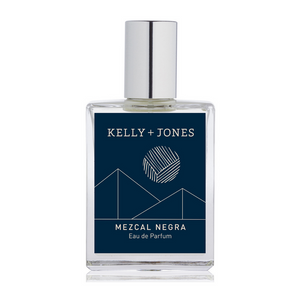 MEZCAL NEGRA PERFUME
Regular price $118.00 Sale
Mezcal Perfume!
Wait what? Yep, that's right - this amazing gender neutral fragrance is a combination of mezcal + a unique blend of essential oils! 
MEZCAL NEGRA is a blend of smoked woods and mystical spice.  It's mesmerizing scent will transport you to the agave fields of Oaxaca Mexico and the sensorial world of mezcal.   
Smelling Notes: Sonoran Pine | Black Lime | Guaiacwood | Cajeta | Clary Sage
50ml Eau de Parfum Spray. each bottle's label is made of a compostable, biodegradable stone material. 
A portion of every sale goes to Programa Vaca. This Mexico-based organization is helping to rebuild in the country's earthquake-affected rural areas with sustainable architecture and natural materials, for long-term, positive human impact.
by Kelly + Jones