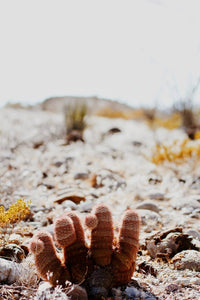 MAGICAL CACTUS MARFA PRINT
Photo Print of a Magically Pink Cactus in the Big Bend Ranch State Park, near Presidio Texas. 
 4 in x 6 in 
By HEARTS & BONES PHOTOGRAPHY
Ever since moving to Marfa in far West Texas four years ago, Hannah Gentiles has taken as many opportunities as she could to explore the beautiful Chihuahua Desert that surrounded her. These images are a collection of her favorite photos taken from the Davis Mountains all the way down to Mexico and everywhere in between. 
Inspired by the dance between the desert's harshness & graceful simplicity, Hannah aims to capture the beautiful hues, textures & shapes that result from this relationship. To capture the hearts & bones of the wild west.